Revision History
Download
Register
Mailing List
---
---
The program CLR Tabs To Spaces™ converts tab characters to space characters in text files and on the clipboard. The tab locations are equally spaced and can be customized. Read the revision history for a complete list of features and improvements.

Here are some of the many uses for CLR Tabs To Spaces:
Convert a text file containing a tab delimited table for import into a graphics design or CAD program.
Convert a formatted table on the clipboard and paste it into an e-mail message as plain text.
Convert source code, usually tabbed at 4 characters instead of 8, for an e-mail message or a word processor.
| | |
| --- | --- |
| | CLR Tabs To Spaces was named one of PC Magazine Extra's Top 10 Internet Downloads for the month of August, 1999. |
Download and try CLR Tabs To Spaces for 30 days free of charge. If you find the program useful, register your copy for only $10.00 US.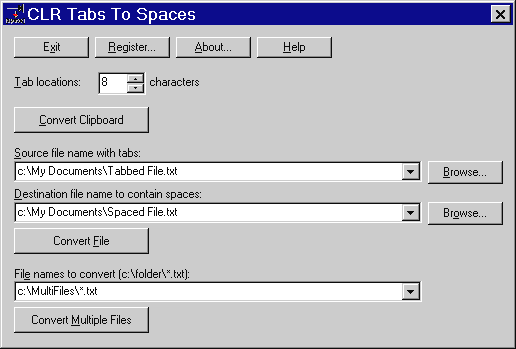 CLR Tabs To Spaces requires Windows 95/98/ME/NT4/2000/XP.
CLR Tabs To Spaces is Shareware. Unregistered users are granted a limited license to evaluate CLR Tabs To Spaces for 30 days. Please read the License Agreement and Registration Information in the program's help.